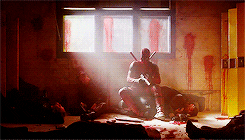 Lieky síce nedošli, ale nezaberajú. Zato známej, ktorá mala doteraz svoje psychické zdravie na háku zabrali na šupu a má sa najlepšie v živote. Kokot mi zaparkoval pred nosom na prechode. Pred prácou som stúpila do psieho hovna.
Mám PMS.
Meditujem.
BOOM!
#bezhanby
1. Igorrr - Tout Petit Moineau
2. Orphx - Blood in the Streets
3. Scalameriya - Bloodlust
4. Amnesia Scanner - AS Chaos feat. Pan Daijing
5. Talking Heads - Psycho Killer
6. Chingon - Malaguena Salerosa
7. Joy Division - Dead Souls
8. Pink Floyd - Careful With That Axe Eugene
9. DJ Rashad - I Don't Give A Fuck
10. Skinny Puppy - Blood
11. Get Set Go - Die Motherfucker Die
12. Queens Of The Stone Age - Feel Good Hit Of The Summer
13. The Gipsy Kings - Hotel California
14. Céline Dion - Ashes (Deadpool 2 Soundtrack)
15. Brewer And Shipley - One Toke Over The Line
16. The Wicker Man - Summer is A-Cumen In
Lieb sein.